Bhutan is warming up to go to the polls for the third time. The atmosphere is one of hope, excitement, heat, anxiety, and curiosity. Past experiences indicate the voters love 'change'. Come October 18th and they will speak that 'change' again through the ballot.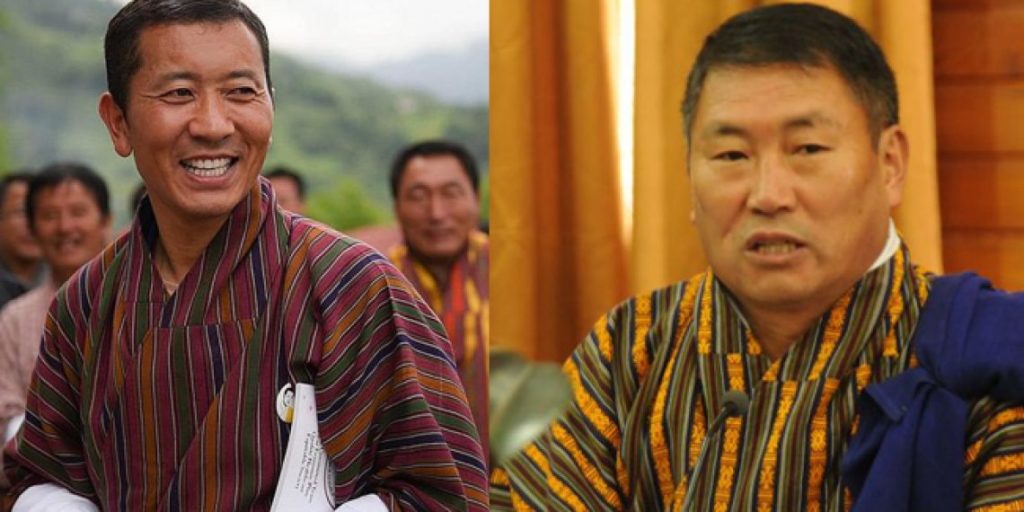 Of the four political parties competed in the primary round, only two parties – Druk Phuensum Party (DPT) and Druk Nyamrup Party (DNT) get a chance to compete in the general election. In the primary round, DNT won the popular vote but lost on constituencies; whereas the DPT won more constituencies but lost on popular vote. Each party had its strength aligned in different edges. DPT was strong in constituencies, DNT was strong on popularity. This sets up an interesting political reality  – that strength and popularity do not necessarily go together, and that popularity may not always translate into electoral success. Though ranked number one and number two by the media, it is hard to say which party is the clear winner. The ruling party – People's Democratic Party (PDP) was ranked third and Bhutan Kuen –Nyam Party (BKP) ranked fourth.
Political ideology and Party manifesto vs People dynamics:
A political ideology is a set of opinions, ethics, ideals, principles, beliefs or doctrines of a collective group or individuals which shape their political and cultural outlook; broadly affecting their voting patterns and policy choices; and consequently, impacting how governance is perceived. For example  – capitalism, communism, conservatism, liberalism, socialism, and Marxism are ideologies. If we understand ideology in these 'isms' the Bhutanese political parties have none. It seems they believe in some of everything and none of anything, in their manifesto. The Bhutanese political parties, however, believe in one ideology – monarchism or monarchical rule. They derive their existence and their political essence from monarchy; not from democracy. It is what they follow – it is what they embrace.
Of course, Gross National Happiness philosophy, Tsa Wa Sum and the provisions of the Five –Year Plans form the overbearing theme of governance; which every party accepts and wants to enforce. Looked from this perspective, there is no difference or any ideological contestations between or among them. If there is any difference, it may be the case of who formed the party first and who led it. It remains to be seen how these parties will emerge ideologically in the future but for now, a clan divide seems to be starker than an ideological divide.
A brief introduction into the manifestoes of these two competing parties exposes the reader to the core agenda of both parties and helps us understand them better. One Indian media has hinted that Bhutanese political parties may be grouped into two broad categories – one standing left of the center and the other standing right of the center. According to this media, the DNT stands left of the center and the other political parties stand to the right of the center.
DPT's priority is to strengthen national sovereignty, security, and self –sufficiency. This is also their soft underbelly. No one understands better than DPT how such a political posturing backfired on them in the 2013 general elections.
Both parties also brag about how they would spend tax money to pursue empowerment through development work. In DPT's approach, empowerment still flows from the top to bottom – a model that Bhutan followed through years in the past. DPT's manifesto is a GDP driven manifesto in that, it converts Bhutan into an economic factory. They are not talking about real people having real problems. They are only talking about 'economic problems' and offering one 'economic solution' or 'development solution' for every problem they face. The tendency to see 'people' as creatures of 'economic development' alone is inherently flawed. Peoples problems may go beyond economics and this is where DPT seems to miss the point.
One can also discern a huge dilemma – a duality in its approach, which clearly corroborates a serious flaw in their development orientation. DPT wants to increase Bhutan's GDP annually but it also wants to implement the GNH philosophy seriously. The fact is that the founding proponents of GNH theory have always understood these two paradigms as opposing each other; thus, suggesting that DPT's new proposition could be another puzzle in itself.
On the other hand, DNT sees empowerment flowing differently  – from the grassroots to the top. It talks about social uplifting, narrowing the gap between the rich and the poor, reforming the tax system, extended leave for lactating mothers. DNT proposes opportunities for continuing college education, appropriate salary increases, improving health infrastructure in the remote and rural areas, programs for single mothers, small-scale cooperatives for women and youth employment. These programs sit well with the needs and expectations of people in rural areas as they have been designed to directly benefit them.
Dr. Lotay minced no words when he said, "the people in Thimphu have the privilege of receiving the best medical treatment from the best doctors, working in the best hospital of the country, without walking a single step; whereas an average villager living in a remote village has to walk long distances on feet before they reach a road. Then they embark on a journey, which may take two or three days just to reach Thimphu. The lines in the hospital, the expenses in hotels and transportation make a different story. The poor villager goes through a lot of trouble before he can receive the same treatment that an ordinary city dweller receives every day".
His observations resonate well among the public, especially in far-flung areas. One of the voters this scribe talked to said, 'I go to Thimphu up to three times a year for my treatment. Now, that this party has pledged to bring the facilities and doctors to my gewog, probably my days of suffering is partly over. I will vote for them'. It seems that the unassuming rural folk, the downtrodden, the mute and the silent lot have finally found their inner voice.
Talking about party manifestoes – overall, they are good but too long to read and too hard to understand. Whether or not these manifestoes are making any sense to an average voter is an open question; especially for those who do not read or write.
Party History, People and Leadership:
Political parties are organic entities, formed by people who execute activities in its name. Sangay Nidup founded PDP and Jigme Y Thinley founded the DPT. Both Sangay Nidup and Jigme Thinley (JYT) were born with silver spoons and they belong to the elite society of Bhutan by birth. They were far removed from the struggle and vicissitudes of the life of a commoner. They were not 'mi ser gi bu' or 'janta ko chhora'. In the social psyche of ordinary people, both DPT and PDP are extended protrusion of the palace. In other words, many Bhutanese still do not perceive these parties as 'peoples' parties and this is where their basic problem comes from. In other words, public acceptability and legitimacy are still in question.
Living in southern Bhutan in an age of JYT was stressful and always full of anxiety. A deep-seated group cognition, especially in southern Bhutan, views JYT as an instrument of suppression. In him, they see an oppressor with a mace and a club always ready to strike. It invokes a sense of fear and risk even today. Who can forget his insults when he called them illegal immigrants, anti-nationals, laborers, criminals, and terrorists?
Sangay Nidup and Jigme Thinley worked in the government throughout their life. But the manner in which they abdicated responsibility soon after they lost elections indicate that they were just interested in serving themselves, not the public. Had it been in the old system they would continue to live in the government until their last days like Tamji Jagar, Dawa Tshering or Dago Tshering to name some. It is a blessing that the Bhutanese people can now use elections to filter and choose who they want in government or who they want to retire. Thanks to democracy!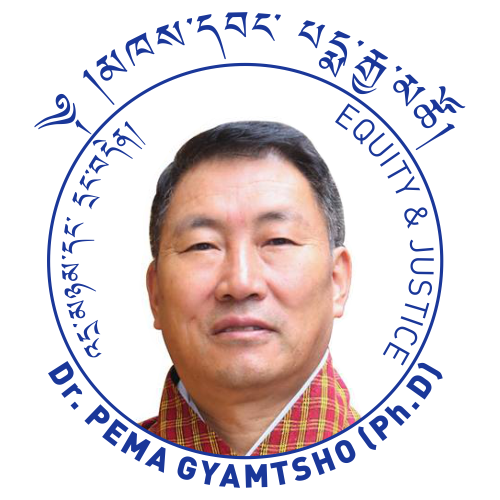 Long after these founding leaders are gone, the ghost of their legacy – good or bad still lives on and continues to hunt its forebearers. Without a doubt, Dr. Pema and Tshering Tobgay, who are leading DPT and PDP respectively are leaders of high intellectual caliber and they have all the good intentions. Regardless of what they are, in the eyes of the public, the founding leaders always outshine the current leadership; regardless of how much they do, they are still seen as serving the legacy of their founding leaders. It would have been a blessing if the legacy was good, but when it is questionable, it becomes a liability than a resource.
Dr. Lotay, who founded DNT has nothing to boast of any nobility nor does he have to live a legacy given by anyone. He is one among the people  – 'mi ser gi bu'. His message is the messages of hope. The average Bhutanese – the poor and left out are feeling cared for and loved for the first time. This is the feeling several people across the board are sharing and talking. The situation is one of rousing support and solidarity. In a condition where the crowd is the judge, and numbers pick the winner, the size of public outpourings in his meetings clearly mean something.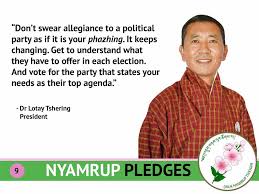 If there is anything that has factored into this, it is Dr. Lotay's election speech in Tendu. In this speech, he departed from usual tradition and spoke in Nepali language for almost ninety-nine percent of the time. Language is a sensitive issue for anybody. But for the southern Bhutanese, who have lost their language for quite a long time, it meant hope – hope that they will get their language back. It also meant something more – up to now, only the southern Bhutanese needed the Nepali language. But now even Dr. Lotay needs it – he needs the Nepali language to win. In fact, his need is greater than our need. It is his trump card, at least in this election. By using the Nepali language, a southern Bhutanese cannot practically do anything but Dr. Lotay can become the Prime Minister of Bhutan, if he wins this election. The success he is getting in southern Bhutan did not come only because of his manifesto; in part, it also came from the connections he made with his audience by talking in their mother tongue. Thus, 'the audience' became 'his audience' and they became his friends and supporters. And the rustic charm with which he delivered his speech helped him navigate and execute his messages directly into the peoples' conscience.
The speech was heard not only in Tendu; it was watched as far as in the US, Canada, Australia and Europe where the former detractors of the Bhutanese government heard him eagerly and tried to make sense out of it. Lotay hinted that creating Sanskrit Pathsalas and Hindu mandhirs would enhance Bhutan's heritage as a country which practiced both Buddhism and Hinduism. He also said that he would work on a holiday calendar differently so that practitioners of different religions can have enough days to celebrate. He talked about upgrading the Nepali language and making it a language of Bhutanese television just like Dzongkha and English. And his messages clicked.
He is not only an intellectual, but he is also basically an intelligent man. He uses 'common sense' to approach people's problems. His efforts have paid off. A connection was made, and a bonding is established. A spirit of enthusiasm and confidence prevails among his supporters in villages and in towns. And armed with 'people power' and a will to win Dr. Lotay may likely conquer this election.
Party and Performance Track:
In the absence of a proper ideology, the Bhutanese political parties compare and contrast themselves on the merit of their economic resume and their self –declared political report cards. DPT claims that it has fulfilled almost all its pledges when it was in government;  taking credit for initiating new hydropower projects, expansion of roads, the extension of the electric grid and mobile phone connectivity. It is running on a track record of 'seasoned candidates who are qualified and experienced both in government and in opposition'. DPT's party slogan is ' growth with equity and justice'. Led by party president Pema Gyamtsho, DPT hopes to achieve its objectives by 'pursuing the noble vision of the kings'.
DNT, however, has no track record to mention as they are a new party. That does not mean that new parties or new leaders cannot form a government. Tshering Tobgay is an example. DNT's track record will be questioned in 2023 if they win this election.
The Southern Card:
Bhutan's election processes, practices, and campaigns are not designed to help southern Bhutanese to vote as true stakeholders. Voter education and campaign materials are printed only in Dzongkha and English. Similarly, interviews are conducted only in Dzongkha and English. Political debates are conducted only in Dzongkha. It does not make any sense when a Nepali speaking southern Bhutanese candidate has to give an election speech in Dzongkha his own village where Dzongkha is not locally spoken; to an audience that only speaks and understands the Nepali language. This is a huge disregard and disrespect to the language of the voter especially those, who belong to a minority. In addition  –  it not only makes communication ineffective, but it also inhibits the ability of a voter to understand the voting process or to make an informed election choice.
However, democracy has returned power in the domain of the electorate. And it seems that the Bhutanese electorate is using the power to make a difference. The mace with the help of which the rulers wheeled power in the past now belongs to the public and they are using it efficiently. The voting preferences of southern Bhutanese have influenced election outcomes in the past and will continue to do so. They swing, shuffle and determine who comes in and who goes out from the deck of cards that is southern Bhutan. They helped DPT win a landslide in 2008. In 2013, they helped PDP surge to power pretty much out of nowhere; though from the southern Bhutanese perspective – the surge was more of a vote against DPT than a vote for PDP.
They are the reason DPT lost in 2013 and they are the reason PDP lost the primaries in 2018. The PDP took the biggest blow on its face when it was swept clean in southern Bhutan in the primaries of 2018. It is bad that a ruling party could not retain a single constituency but that's them. PDP's ouster from southern Bhutan in this primary underscores the fact that electoral dynamics in Bhutan is very strong and effective.
The failure of DPT and PDP in southern Bhutan one after another is a result of politics conceived in arrogance. Neither the PDP nor DPT truly believed in the people after the vote. Time did show that for the southern Bhutanese, PDP was no different than DPT. Tshering Tobgay was no different from JYT. Five years of PDP rule was no different from the DPT's five years. The difference could be in degree, but the quality was the same. Tobgay used his influence to marginalize the southern Bhutanese and JYT used his victory to abuse and insult, blame and shame the southern Bhutanese for five years. Ignored and unheard by these politicians and parties  – it appears that the southerners have decided to give another shot at 'change' in this election.
Diaspora Connection:
The existence of a nearly hundred thousand strong Bhutanese diaspora is a natural turf which provides a natural ground for social interaction among the Bhutanese community far and wide. They are talking and discussing elections with their friends and relatives in Bhutan. The soft power that transpires in these interactions, though not strategically planned, can exert significant influence, which can swerve voter choices in an election season. The power of social dynamics probably cannot be measured or surveyed but they cannot be dismissed either. Political counsel received from good folks living in the diaspora can penetrate the ballot box in Bhutan, and the impact can be really large. A southern Bhutanese living in the diaspora believes that the democracy which is introduced in Bhutan is born of the struggle and sacrifices he has made. The 'ownership' of an enterprise called 'Bhutanese democracy' is important to him, and he sees it happening when he participates in these elections, though indirectly and emotionally. Therefore, the need for him to establish a relationship with the politics of the motherland becomes a social need. It is only through such connections and participation that he can speak to his past identity and history.
Conclusion:
It is the trade of political pundits, soothsayers and speculators to inject their own idea of who will win or who will lose. Data indicates that DPT is doing very well in parts of eastern Bhutan and very poorly in the south. DNT is very strong in the south but trailing behind in the east. PDP and BKP together carried a little over 108 thousand votes in the primaries. The distribution of these spilled votes and the share each party will gain on Election Day will ultimately determine the party that will form the next government. It will be interesting to watch how the numbers will add up after these swing voters are factored in.
An electoral understanding and partnership between DNT and PDP cannot be ruled out. In 2013, the DNT  – then a new party asked its members to support PDP in the general election; a return to that favor is probably anticipated. The second but truly the best reason is that no alliance could be seen emerging between DPT and PDP. That leaves the PDP and its supporters naturally swinging towards DNT.  DPT and PDP have opposed each other in the parliament and outside for ten years and their differences go as far back in time up to the party's foundation. It means DPT's leverage in this election is really limited. That leaves the DPT pulling its last string and throwing its leverage on BKP to pick up some extra votes. Such an arrangement even if it works can generate a combined total of a little over 118  thousand votes. This won't be enough to offset the gain DNT will make through a similar alliance with PDP, which will generate approximately 172 thousand votes. A generic projection of ground realities suggests that the DNT is in a position of clear advantage. But as in every other trade, only the best can win in this election.
The author, who is based in Charlottesville, VA,  is a political analyst of Bhutanese politics, and one of the columnists for Bhutan News Service.